Earn 1 point for writing a review for this product
Say goodbye to love handles and muffin tops. No surgery, no downtime.
CONSULTATION REQUIRED PRIOR TO RECEIVING TREATMENT
CoolSculpting is an FDA-cleared, non-invasive fat reduction technology. Packages Includes:
Muffins go better with mimosas than showing off in your jeans. Get rid of that unsightly muffin top and start to feel great with one of our customized bye bye belly packages.
Love Handle / Flanks Package
Not loving those love handles? now you can say goodbye in a little over an hour using the CoolAdvantage applicators ,it's time to finally get all the right curves in all the right places.
Let the dinner table be the only place you ever see a turkey neck. With our cool mini applicator, in just 45 minutes you'll be on your way to show off a smaller chin and improve those selfies this Holiday season.
Inner Thigh Reduction Package: Hello Thigh Gap
A perfect way to get that thigh gap or just to make clothes fit better, it's a problem area that can now finally be addressed. With one new CoolAdvantage applicator on each inner thigh.
Outer Thigh (Saddlebags) Package: So Long Saddlebags
Want to send those pesky saddlebags packing without surgery? Well, now there's a solution. It's called the New Coolsmooth handpiece.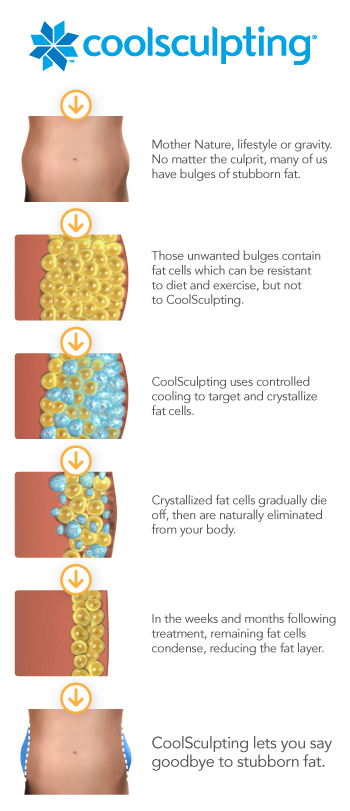 The CoolSculpting procedure eliminates stubborn fat safely and effectively, without surgery or downtime. This fat reduction treatment is the only FDA-cleared procedure to use controlled cooling to safely target and eliminate diet- and exercise-resistant fat. CoolSculpting results are proven, noticeable, and lasting, so you'll look and feel great from every angle.
Freeze away fat? It comes down to science. Fat cells freeze at higher temperatures than surrounding tissues. CoolSculpting technology safely delivers precisely controlled cooling to gently and effectively target the fat cells underneath the skin. The treated fat cells are crystallized (frozen), and then die. Over time, your body naturally processes the fat and eliminates these dead cells, leaving a more sculpted you.
You can reshape your body! We will develop a customized CoolSculpting treatment plan that addresses your problem areas. Additional sessions may further enhance your results. Your individualized treatment plan will be tailored to your body, your goals, and your budget.
It's easy to sit back, relax and say goodbye to stubborn fat. After we select the area(s) to be treated, the device is positioned on your body and controlled cooling is applied. During your procedure, you may choose to read, check email, or even take a nap.
The CoolSculpting fat freezing procedure is completely non-surgical, so you can typically return to work and normal activities immediately.
You will like what you see. In the weeks and months following your procedure, your body naturally processes the fat and eliminates these dead cells. Once the treated fat cells are gone, they're gone for good.
Are you ready to love every view of you? The sooner you set up your consultation, the sooner you'll see results in the mirror—long-term results in those areas that have resisted all efforts through diet and exercise. Contact us today to find out if the CoolSculpting fat freezing procedure is right for you.
Results and patient experience may vary.
More Information
Benefits
FAQs

What is CoolSculpting?
CoolSculpting is a breakthrough, non-invasive procedure that uses cooling technology to noticeably eliminate fat without surgery.

How much does CoolSculpting cost? How many treatments will I need?
The price for CoolSculpting varies depending on your areas of concern, the number of treatments needed, and your ultimate goals. We will assess you in person to help estimate the cost. Typically, you'll see a noticeable reduction of fat in the treated area after one visit, but you may appreciate even more fat reduction with additional CoolSculpting treatments.

What will the results be?
A reduction in the amount of fat in the treatment area..

What happens during the treatment?
To initiate CoolSculpting, we will position the device on your body. The device will then draw the bulge up between 2 cooling panels. The sensation is a very firm pull and quite a bit of pressure—enough of a pull to ensure the selected tissue will be cooled most efficiently. The device then slowly lowers the temperature, freezing the fat cells and numbing the area. After about an hour, you're done!

Can I return to normal activities after the procedure?
CoolSculpting is completely non-surgical, so typically you can return to normal activities immediately. Some patients experience redness, minor bruising, tingling, cramping, numbness or discomfort in the treated area, but this is temporary and will resolve completely. Often times, patients return to work after the session is over.

When will I see results?
You may start to see changes as quickly as 3 weeks after your CoolSculpting treatment, and will experience the most dramatic results after 1-3 months. Your body will continue to clear and metabolize the broken down fat cells for up to 4-6 months after treatment.

Are the results permanent?
During CoolSculpting, the treated fat cells are eliminated. As long as you maintain a healthy lifestyle, long-term results should remain stable.

Treatment Type
Body Contouring
Treatment Problem or Condition
Neck Laxity, Submental Fullness/Double Chin, Unwanted or Stubborn Fat
Skin Type
Body Areas
Size
Applicator Size Determined At Consultation
Brand
Allergan
The CoolSculpting® System is a prescription use only device and may only be used by or on the order of a physician. Your practitioner will discuss your individual treatment plan and will select the appropriate applicator for your needs. Some applicators use vacuum and others do not. During your treatment, a gel or gelpad and applicator are applied to the targeted area. Applicators that use vacuum will draw the tissue into the applicator cup. You may feel deep pulling, tugging, and mild pinching. With a non-vacuum surface applicator, you may experience sensations of pressure. Controlled cooling is then delivered to the targeted fat so you may feel intense cold, stinging, tingling, aching or cramping as the treatment begins but these sensations typically subside as the area becomes numb. In some cases, you may feel pulsatile massage. Upon removal of the applicator, you may see a frozen bulge at the treatment area (known as a "butterstick"). The physician may apply manual massage to rewarm and smooth out the treated area.
N/A